WAVE HEIGHT
10.5ft
SWELL DIRECTION
SE128.0°
DOMINANT PERIOD
11.0 Seconds
WIND SPEED
22mph
WIND DIRECTION
N10.0°
tides
Next High + 3.2ft @ 11:43am
Reporter: Nick H
Updated: 17, November, 2019 @ 11:46
Current Observation
Knee to waist high surf out there this morning - bigger along east facing coast because of the swell direction. Local winds out of the NE all day, so not ideal for E facers. Potential for stomach high surf into the later afternoon. 
A touch smaller at south facing spots but much cleaner. Worth getting wet this afternoon if you can't wait until tomorrow!


Water Temperature is 58°F  (4/3 + 3mm booties.. hood depending on the day)
3-Day Surf Forecast for Rhode Island
MONDAY, NOVEMBER 18
4-5 feet + / N winds 20 knots
Our coastal low will be sitting offshore south of RI by Monday morning and ESE swell will be pumping. At the moment we're looking at Chest to head high surf for most spots, with standouts seeing slightly overhead surf. East exposed spots will have the most size but N winds aren't ideal. Looking like it could be a killer day of surf in Rhode Island!
Below: Surfline's LOLA model showing peak of swell on Monday morning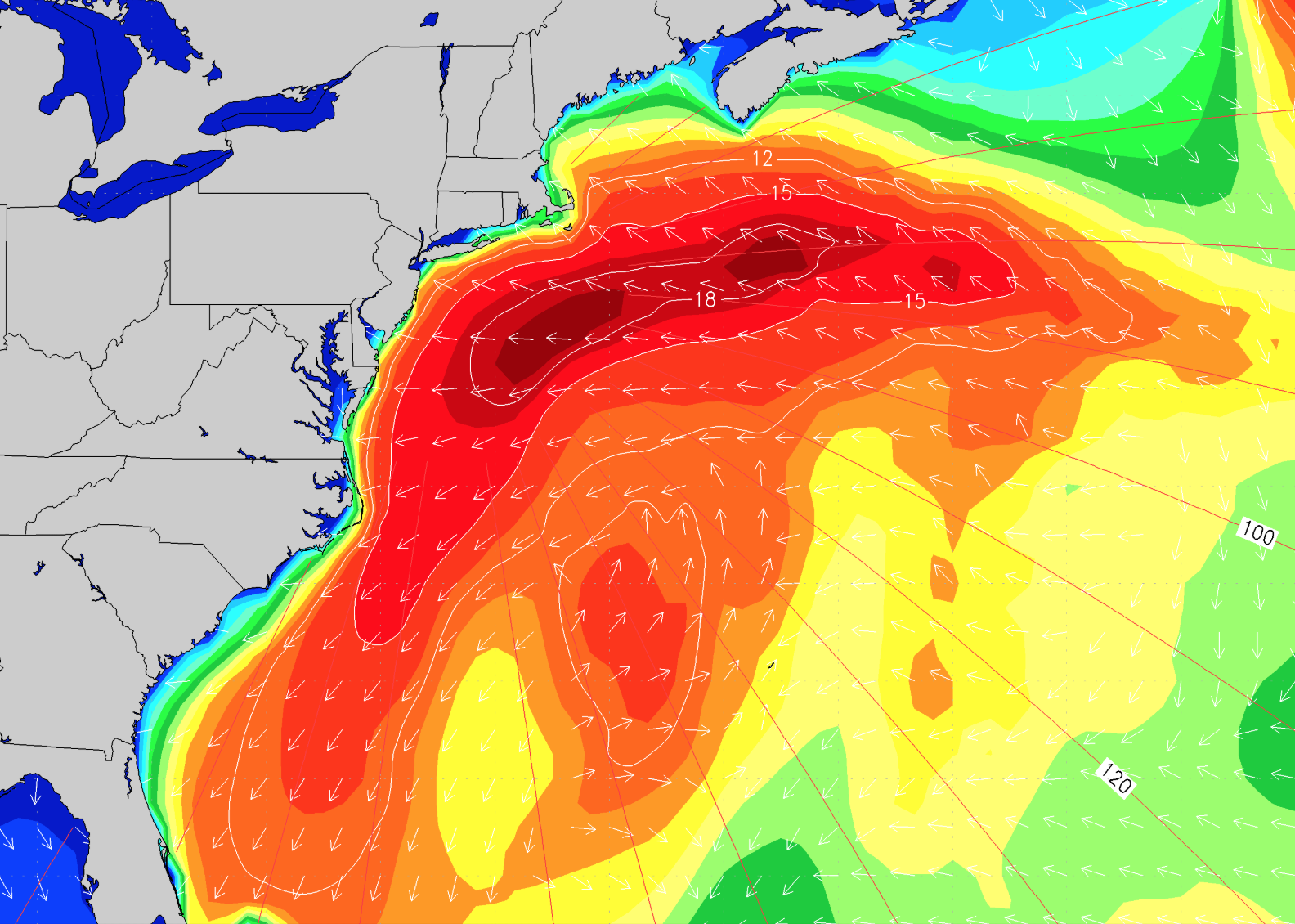 TUESDAY, NOVEMBER 19
3-4 feet / West winds 5-8 knots
ESE swell sticks around into Tuesday morning with fun surf around waist to chest high early, getting smaller over the course of the day. Best window will be early morning with the incoming tide. Winds out of the west so east facers will be the call. Plenty of fun waves leftover if you can't get out Monday.
WEDNESDAY, NOVEMBER 20
1-2 feet / NW winds 10 knots
Minor swell mix in the water into Wednesday morning, possibly surfable on the longest board you've got. Expecting surf to top out around knee to thigh high at best. A new, weaker coastal low develops off the coast and slowly makes its way north, but likely won't mean much for surf because of its path and shape.Worth keeping an eye on - maybe will see an increase in SE windswell late in the day.
FURTHER OUT
Potential for a SW windswell to develop late in the week, but likely won't mean much New Englan thanks to the swell direction. Still pretty far out, so anything could change.
Water is getting cold and we've got some great deals on rubber right now. Come by and chat with myself or Mike if you need to get dialed on some new winter gear.